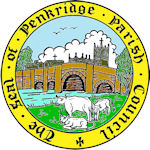 Penkridge – twinned with – Ablon-sur-Seine    
Since 1986 Penkridge has been twinned with Ablon-sur-Seine, a small suburban town on the southern outskirts of Paris, close to Orly Airport, and on the banks of the famous river.  We are a family twinning association.  Some Penkridge families have been twinned with their Ablon counterparts for many years, and many close friendships have resulted.
The choice of Ablon was made carefully.  While it feels like a small French town, it has the obvious attraction of being only twenty minutes from the centre of Paris, one of the most popular capital cities in the world.  Many other attractive parts of France are within easy striking distance – Versailles to the west, Fontainebleau to the east, Rheims and champagne country to the north, Sancerre and the Loire valley vineyards to the south.
Every other year we welcome our French visitors into our homes for a fun-packed, sociable and very enjoyable weekend. Visits typically last from Friday to Monday or Tuesday. Some of this time is spent with the English hosts entertaining their French friends "en famille", among their own family and friends, and some at organised activities to bring the whole group, English and French, together in a relaxed social setting.
In the years when the French do not come here, we visit Ablon, and on these occasions our hosting efforts are handsomely repaid with warm and generous French hospitality and friendship.
Twinning gives you the fun of hosting someone from another country in your own home, and the opportunity of experiencing French social, cultural and domestic life at close quarters.
If you would like to know more then contact Paul on 07528 668804 or Barbara on 07817 430925.
We would love to hear from you.
Latest news
3rd January 2017
To all our friends in Ablon-sur-Seine we would like to wish you all a very Happy New Year 2017.
"Bonne Année 2017" from all your friends in Penkridge Twinning.
20th May 2016
From the 13th to16th May 2016 we hosted 20 members of Ablon-sur-Seine Twinning Association, who came to celebrate with us the 30th Anniversary of our Association.
They arrived on Friday evening and went home with their hosts.  Daytime Saturday was a free day and Saturday evening we enjoyed a dinner disco held at the Haling Dene with guests of honour the Mayor of Ablon and Councillor C. Stonehouse, Chairman of Penkridge Parish Council.
On the Sunday we visited Stratford-upon-Avon and went to Shakespeare's birth place.
On the Monday, after a morning spent taking in the sights of Penkridge they returned home after lunch.
A most enjoyable weekend was spent by all.
Anyone living in Penkridge or close by, if you would be interested in joining our Association we will be very happy to give you all the details, we are looking for new members.
Thank you.
B.Walters.